WannaCry in Singapore: What You Should Know
Heard that WannaCry in Singapore recently? Where did it come from, and how can it spread so quickly? Read on to know more.
WannaCry: A Global Phenomenon
On Friday, the world experienced the wrath of likely the biggest ransomware attack we've ever seen. The cyber-attack plunged Britain's health service into disarray, crippled Russian and Chinese institutions, and shocked the rest of the world. Media has referred to the ransomware attack as WannaCry Decryptor, WannaCrypt0r 2.0, and other similar names.
Europol chief Rob Wainwright said that Friday's WannaCry ransomware attack had affected more than 200,000 victims in 150 countries. With an infection of this scale, it will be difficult to get all of the systems patched and put an end to this for good. Some experts believe that WannaCry could be around for many years to come.
How WannaCry hits their target?
WannaCry is a malicious software (malware) that locks data on your computer. In this case, the hacker asks for payment (ransom) in exchange for the key to unlock the infected system. The hacker combined the ransomware with a worm application, making it possible for the infection to quickly spread across networks.
WannaCry in Singapore already?
As WannaCry in Singapore is being reported, everyone is on red alert. Passersby have reported seeing WannaCry in Tiong Bahru Plaza's digital directory service and an outlet at Orchard Central. Luckily, these display systems did not contain sensitive information. The management already called for a team of security experts to patch the infected systems within hours of the infection.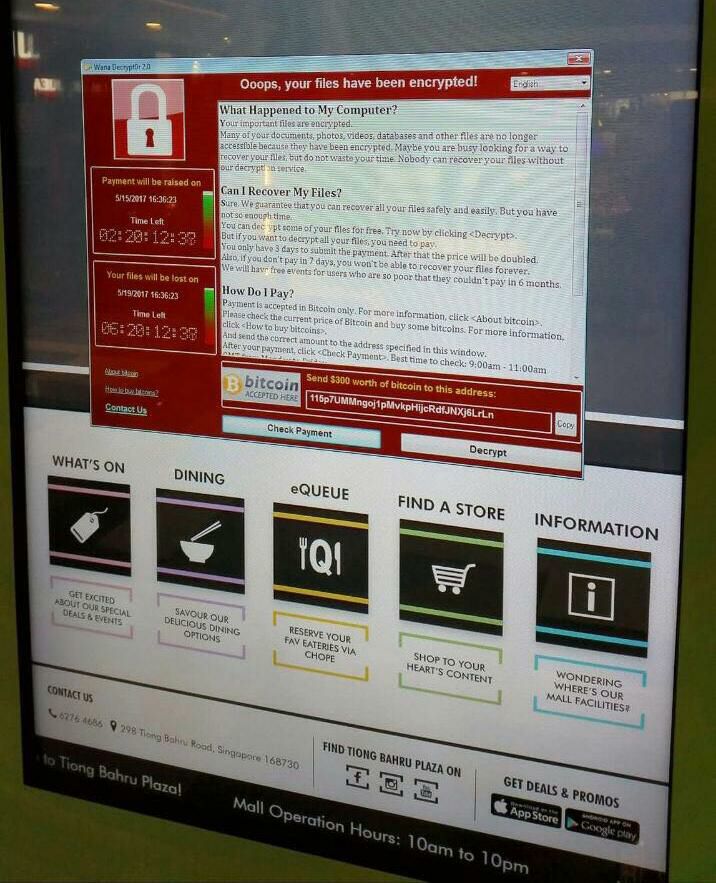 CSA's Director for the National Cyber Incident Response Centre, Dan Yock Hau said those affected should not pay the ransom as indicated in the malware message, as there's no guarantee that their files can be recovered.
What to do if you find WannaCrypt in your computer?
Immediately disconnect any affected system so the malware will be unable to reach the command and control servers. This also serves to prevent further infection or transfer of data. You can then reach out to a professional for recovering your computer from virus or malware attacks.
How to protect your computer from other attacks?
Once a virus, Trojan, worm, or any other malicious code enters your computer, solving the problem becomes really tricky. They can hide deep inside an infected system and sabotage any attempt to remove it.
Do these steps to protect your computer from hacking attempts:
UPDATE your system
The WannaCry exploits a vulnerability in Windows 8 and older operating systems that has been patched in March 2017. If you haven't installed any security updates for a while, it's time to hit that Check for Updates button. Or simply turn on Automatic Updates.
INSTALL the latest anti-virus and anti-malware
There's a reason why technicians recommend having at least an antivirus on your computer. Free antivirus generally does a pretty good job. But purchasing a license for paid antivirus or premium features for better system protection can be worth it.
NEVER OPEN any suspicious attachment or email
While there's little relation to this case, opening malicious programs, or programs (.exe) masquerading as text or other files is still the main reason why hackers could gain access to your computer in the first place. Be sure to check the properties before opening any files, even if you know the sender well.
If you still need help with installing updates or software to protect your computer, simply drop us a line.