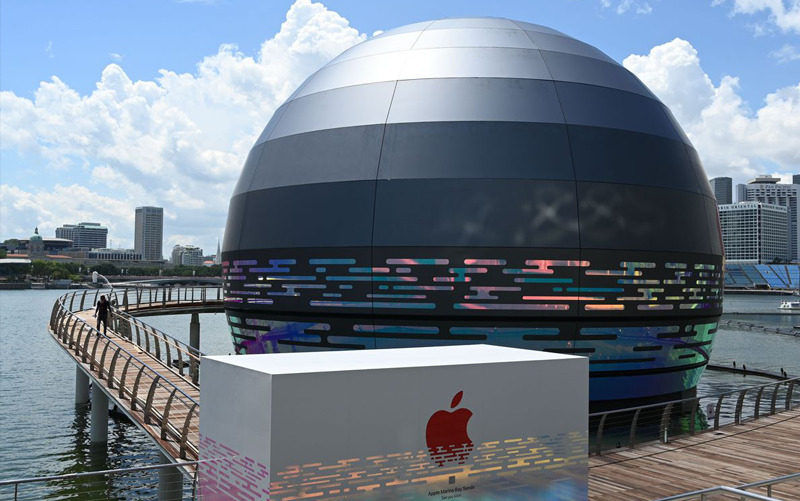 Apple service centre singapore
Apple Service Centre Singapore Locations
Here is a list of the Apple service Center located in Singapore
1. Apple Orchard Road Service Centre
Address: 270 Orchard Road, Singapore 238857
Phone: 1800-6992824
Store Hours: 10.00am  -10.00pm daily (Mon-Sun)
How to get here: Apple service centre Orchard Road is located in the Orchard Road shopping district. The store is situated near the intersection with Bideford Road, in the Knightsbridge building. For parking, the Grand Park Orchard Carpark on Bideford Road is available. As for public transit, the Orchard and Somerset MRT stations are nearby, and numerous local buses serve the surrounding area
Open Google Map
2. Apple Marina Bay Sands Service Centre
Address: 2 Bayfront Avenue, B2-06, Singapore 018972
Phone: 1800-4074949
Store Hours: 10.00am  -10.00pm daily (Mon-Sun)
How to get here:
Apple service centre Marina Bay Sands can be found at The Shoppes at Marina Bay Sands, specifically in the Crystal Pavilion South. It can be access via the entrance on Basement 2, Canal Level.  For parking, Marina Bay Sands provides options within its premises, specifically in the South Carpark's Blue zone. Conveniently, Marina Bay Sands is linked directly to the Bayfront MRT Station on the Circle and Downtown Lines.
Open Google Map
Address: 3 Gateway Drive, #01-42, Singapore 608532
Phone: +65 6515 2010
Store Hours: 11:00am – 07:30pm daily (Mon – Sun)
How to get here: QCD service centre can be found at the Westgate Shopping mall and their store is next to the taxi stand. It is located close to Jurong East MRT station and Jurong East Bus Interchange. It is also connected with another shopping mall called Jem
Open Google Map
4. Apple Jewel Changi Airport Service Centre
Address: 78 Airport Boulevard #02-234, Singapore 819666
Phone: 1800-4074948
Store Hours: 10.00am  -10.00pm daily (Mon-Sun)
How to get here: To reach Apple service centre at Jewel Changi Airport, you can opt for the East Coast Parkway (ECP) or Pan Island Expressway (PIE), both of which will lead you to Airport Boulevard. Parking is available within Jewel Changi Airport. If you prefer public transit, you can take the East-West MRT line to Changi Airport Station (CG2). To access Jewel, you can use the link bridges at Level 2 of Changi Airport Terminals 2 and 3. Otherwise, several local buses stops at Changi Airport Terminal 1's basement bus bay. For those arriving at Terminal 1, Jewel is conveniently connected to the Arrival Hall (Level 1).
Open Google Map
5. A. Lab Pick Up and delivery
No physical store now*
S$8 Pick Up And Delivery Fee Limited Period
Pick Up And Delivery Fee Waived For Applecare+ Customers
A. Lab Will Contact You To Confirm Your Pick Up Location
Phone: +656784 1318
Operating hours: 9am-6pm from Monday-Friday
Note: A.Lab, previously has 2 operating branches at Changi City Point and Plaza Singapura, but has permanently shut down both locations.
Before you head down to Apple service centre, for your information, the Apple warranty doesn't cover damage caused by accident or abuse. If the screen of your Macbook, Imac or Ipad breaks,  you may have the option to replace the devices with independent repair service provider like Volta PC Upgrade & Repair. Our diagnostic is complimentary. There is no fees if we are unable to repair it. 
Indepedent Repair Service Provider
Why Choose Volta PC Upgrade & Repair?
Up to 6 months warranty after repair
We provide FREE diagnostic for out of warranty device
If your motherboard is faulty, we will repair motherboard at a cheaper alternative rather than replacing the motherboard which is costly
We use high quality parts for the repair
https://goo.gl/maps/PzfeNvx2UwnMdHp67
8 Burn Road #01-04, Trivex, Singapore 369977
Store Hours: 10.30am -7.00pm (Mon, Tue, Thu, Fri,Sat, Sun)
Closed every Wednesday & Public Holidays
Open Google Map
Call: 6385 3882
 https://goo.gl/maps/nzEcgHx6o5o63fFp9
Blk 132 #01-279C, Jurong Gateway Road, Singapore 600132
Store Hours: 11am-7pm (Mon, Tue, Thu, Fri,Sat, Sun)
Closed every Wednesday & Public Holidays
Open Google Map
6562660980